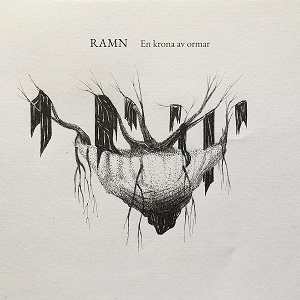 RAMN release an EP on M&A Music Art
A two-man band from Majorna, Gothenburg, Sweden, RAMN plays abrasive, danceable, noisy and dark neo-post punk. They now release the EP "En krona av ormar" ("A Crown Of Snakes") on M&A Music Art, a Swedish indie label, following the debut EP "Stort svart" ("Big Black").
With four songs of dark neo-post punk, En Krona av Ormar, Skräckens Hav, Instrumental för Maika Halfwolf, and Järtecken, RAMN fuses European post-punk and American noise rock traditions together, along with analogue drum machine beats and the austere melancholy of the Swedish language. Big Black, Live Skull, Siouxsie & The Banshees, DAF and Wire are equally important influences; guitar noise, romanticist darkness, angular and machine-like rhythms. The result, however, is alchemically singular, anachronistic and highly recognizable. RAMN thus claims to create something new, or maybe something outside of time. They also wish to express that their particular brand of post-punk darkness is not that of depressions, but that of thunderstorms. And the song lyrics don't tell stories; they weave spells and incantations.
Release date: 24th September 2022
You can pre-save it to the music platform of your choice, then it is magically there for you upon release:
Pre-add En Krona av Ormar EP here.
Enjoy M&A Music Art's Youtube-channel here.
Get a bunch of links to download or stream En Krona av Ormar here.