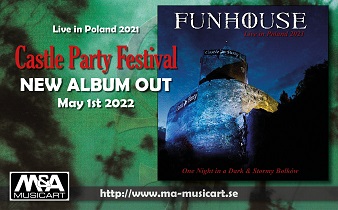 Funhouse release a live album
Funhouse, the masters of dark up-tempo love songs with powerful choruses, release a live album on the 1st of May, recorded at the Castle Party Festival in Bolkow in Poland, last Summer. One Night in a Dark and Stormy Bolkow delivers twelve songs, classic gothic hits and new songs in a balanced mixture, capturing the feeling of truly being there.
Listen to it on the music platform of your choice:
Listen to One Night in a Dark and Stormy Bolkow here.
Don't miss Funhouse live at Campus Noir X festival in Ilmenau, Germany, on the 24th September at the Technische Universität.
M&A Music Art's Youtube-channel here.
Listen to Funhouse on Spotify here!
Get a bunch of links to download or stream Dark and Stormy here.