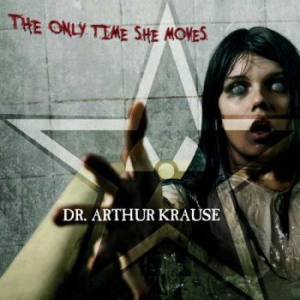 New album from Dr. Arthur Krause
Monday the 19th of September sees the release of the new album from Dr. Arthur Krause, The Only Time She Moves.
Ten strong tracks each build a momentum, working closely with the deep, layered vocals that form the trademark of the band. This is the first album with music written by all members of the band and the production is the bigger than ever.
The music is not as easy to file as it may initially appear, but the Doctor is popular with fans of acts like The Cure, Joy Division, Depeche Mode, The Sisters of Mercy and U2. Starting with the traditional dry ice and frontal light, the performances now provide a full multimedia show and have established the Doctor as one of Scandinavia's most popular live acts in the gothic scene, having toured with The Damned and Red Lorry Yellow Lorry.
You can pre-order a hard copy of the album from our web shop now, and digitally it will be available at Klicktrack, Amazon, iTunes, Spotify and almost everywhere else, too.
Watch the Midnight Rain promo video here:
Dr. Arthur Krause on YouTube